What Heavy and Tractor-trailer Truck Drivers Do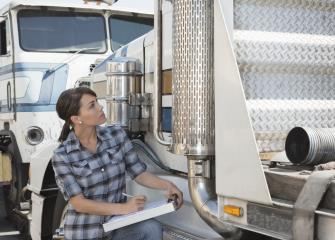 Heavy and tractor-trailer truck drivers transport goods from one location to another. Most tractor-trailer drivers are long-haul drivers and operate trucks with a gross vehicle weight (GVW) capacity of more than 26,000 pounds. These drivers deliver goods over intercity routes, sometimes spanning several states.
Duties
Heavy and tractor-trailer truck drivers typically do the following:
Drive long distances
Report to a dispatcher any incidents encountered on the road
Follow all applicable traffic laws
Secure cargo for transport, using ropes, blocks, chains, or covers
Inspect their trailers before and after the trip, and record any defects they find
Maintain a log of their working hours, following all federal and state regulations
Report serious mechanical problems to the appropriate personnel
Keep their trucks and associated equipment clean and in good working order
Most heavy and tractor-trailer truck drivers' routes are assigned by a dispatcher, but some independent drivers still plan their own routes. When planning routes, drivers must take into account any road restrictions that prohibit large trucks. Drivers also must plan legally required rest periods into their trip.
Some drivers have one or two routes that they drive regularly, and others drivers take many different routes throughout the country. In addition, some drivers have routes that include Mexico or Canada.
Companies sometimes use two drivers, known as teams, on long runs in order to minimize downtime. On these team runs, one driver sleeps in a berth behind the cab while the other drives.
Certain cargo requires drivers to adhere to additional safety regulations. Some heavy truck drivers who transport hazardous materials, such as chemical waste, must take special precautions when driving, and may carry specialized safety equipment in case of an accident. Other drivers, such as those carrying liquids, over sized loads, or cars, must follow rules that apply specifically to them.
Some long-haul truck drivers, also called owner–operators, buy or lease trucks and go into business for themselves. In addition to their driving tasks, owner-operators also have business tasks, including finding and keeping clients and doing administrative work, such as accounting.